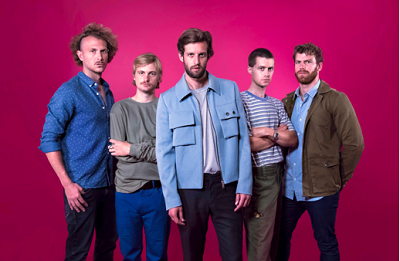 26 Ott

THE RUBENS: la super band australiana si presenta all'Italia con "MILLION MAN"
Dopo il successo dei due precedenti album, con singoli ai vertici delle classifiche radiofoniche australiane e non solo, The Rubens sono pronti per il terzo disco di studio, in uscita nel 2018 per Kobalt. Ad anticiparlo, il brano "Million Man", una perfetta alternative-melodic song con la qualeThe Rubens si presentano anche ai media ed al pubblico italiano.

"Million Man" segue il successo di "Hoops", il secondo disco dall'enorme successo in patria, il cui omonimo brano, la super hit certificata platino, è stata tra i 100 brani più ascoltati di sempre ed al vertice alle classifiche dei singoli per settimane.

La storia di "Million Man" inizia nel 2013 al Laneway Music Festival, dove The Rubens stringono amicizia con il rapper di NYC EL-P (Run TheJewels) e la sua band, che comprende il produttore dei Run The Jewels ed i fratelli Wilder Zoby e Lil' Shalimar (aka Torbitt Schwartz). Dopo un paio di notti passate a bere a New York nel bar di Torbitt e Wilder, l'amicizia si trasforma in un'interessante collaborazione musicale che prende finalmente forma nel 2017, quando i produttori volano da New York allo studio di registrazione dei The Rubens a Sydney.

Circa la collaborazione, il tastierista e songwriter Elliott Margin afferma:  "When it came time to look for a producer for this new record, we realised that they'd be the perfect guys to work with. 'Million Man' was the first track we worked on in the studio with the boys. It was genuinely just a fun time building the song and being creative together."

Scritta da Elliott sull'onda del successo di "Hoops",  a cui ha fatto seguito un tour australiano ovunque sold-out, vendite da capogiro ed un disco di platino, "Million Man" è giunta quasi inaspettata:  "The song itself kind of came from nowhere, just sitting at the piano and playing whatever came out," afferma Elliott. "As the song developed, the lyrics slowly came and spelled out a story and the rest came from there. The chorus was an easy flowing one, which is rare."

"Million Man" è il primo singolo che anticipa il nuovo ed atteso terzo album di studio, in arrivo nel 2018.

Originari del Nuovo Galles del Sud, stato australiano con capitale Sydney, l'alternative rock-band The Rubens si compone dei tre fratelli Zaac, Sam ed Elliott Margin e degli amici Scott Baldwin e Willian Zeglis. Supportati sin dagli esordi, nel 2012, da Triple J, da Mushroom Music e personalmente anche da Michael Gudinski, la band si aggiudica con il disco d'esordio il platino certificato ARIA, a cui ha fatto seguito un lungo tour australiano, americano (New York e Los Angeles) e londinese. Il successivo album di studio, "Hoops" esce ad agosto 2015 e subito debutta al numero 2 della ARIA charts. La band intraprende un altro lungo e fortunato tour, con concerti in venues da oltre 5.000 persone a data, completamente sold-out. Il singolo che da il nome al disco, "Hoops", raggiunge la posizione 23 tra i 100 brani più suonati da Triple J. Con oltre 16milioni di streaming su Spotify per il singolo, l'album "Hoops" è ora certificato ARIA Gold e The Rubens sono senza ombra di dubbio tra le band di maggiori successo della storia della musica australiana dell'ultima decade.